The Hackaday Superconference Takes Over Pasadena This Fall
The ultimate hardware conference returns for its fourth consecutive year in November 2018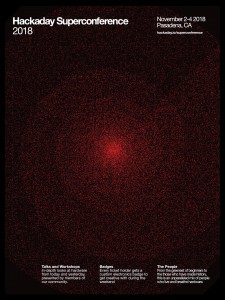 PASADENA, Calif., August 2, 2018 (Newswire.com) - Hackaday, the extremely popular website read by engineers, makers and inventors that celebrates hardware and hardware hacks, announced the fourth annual Hackaday Superconference is taking place Nov. 2-4 at the Supplyframe DesignLab in Pasadena, California.
The Hackaday Superconference is the ultimate gathering of hardware hackers, engineers, designers and devotees who converge for one weekend to share knowledge, watch industry expert talks, join the hardware hacking village and participate in one-of-a-kind workshops. Previous speakers include Anouk Wipprecht, Samy Kamkar and Syd Mead.
"We perpetually include first-time presenters and fresh, only-seen-here content. It's been an incredible ride to watch this conference grow in popularity year after year," said Sophi Kravitz, Supplyframe's director of product.
As a testament to the popularity of the Hackaday Superconference, the early-bird tickets sold out within three hours of going on sale. General admission tickets are available for purchase but will sell out.
Participants who are interested in presenting at the 2018 Hackaday Superconference can submit their proposal through this form. Talk proposals will be accepted through Sept. 3. Successful submissions will cover engineering, creativity in technical design, product design, prototyping or any other original topic, but should be related to hardware creation and the hardware industry.
More information about the 2018 Hackaday Superconference can be found on Hackaday.io/superconference or by contacting conference organizers at superconference@hackaday.com.
About Hackaday
Hackaday is the world's most popular hardware engineering website. Our daily posts are the gold standard in entertainment for engineers and engineering enthusiasts.
Hackaday is a subsidiary of Supplyframe, the industry network for electronics sourcing solutions. Supplyframe is based in Pasadena, California, USA.
For more information, please visit supplyframe.com.
Media Contact:
Katie Huber
Phone: 626.793.7732
Email: khuber@supplyframe.com
Source: Hackaday
Share:
---
Categories: High Technology, Computer Hardware
Tags: conference, Hackaday Superconference, Hardware, Hardware hacking, Los Angeles, Pasadena, Technology
---
Hackaday
61 South Fair Oaks Avenue (200)
Pasadena, CA 91105
United States