Hackaday's 2017 Superconference Is Sold Out
The annual hardware conference sells out two weeks early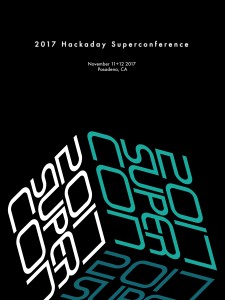 PASADENA, Calif., October 31, 2017 (Newswire.com) - Hackaday, the most popular website read by engineers, makers and inventors that celebrates hardware and hardware hacks, announces today that the 2017 Superconference is sold out.
The Hackaday Superconference is the ultimate gathering of hardware hackers, students, experts and devotees taking place Nov. 10-12, 2017, in Pasadena, California. The weekend is full of talks from industry experts where a wide range of topics will be covered, including robotic dresses, ecological IoT and open source hardware.
We started the Hackaday Superconference in 2015 to provide an epic event where people passionate about hardware could meet, hack and learn new skills together. Now in its third year, we are thrilled that the Hackaday Superconference has become the go-to hardware event of the year.

Sophi Kravitz, Director of Product, Supplyframe
In addition to 31 talks, eight hands-on workshops are offered throughout the conference, providing attendees a fantastic opportunity to gain experience with rapid prototyping, embedded systems, electronic textures and CAD/CAM design.
The 2017 Superconference keynote presenter is Syd Mead, the world-renowned visual futurist who designed and created sets for influential sci-fi films such as Tron, Aliens and Blade Runner.
Those that are still interested in attending may join the waitlist by visiting this page.
The 2017 Hackaday Superconference is sponsored by Digi-Key, Supplyframe, Microchip, Texas Instruments, Hologram, Autodesk and MacroFab.
About Hackaday
Hackaday is the world's most popular hardware engineering website. Our daily posts are the gold standard in entertainment for engineers and engineering enthusiasts.
Hackaday is a subsidiary of Supplyframe, the industry network for electronics sourcing solutions. Supplyframe is based in Pasadena, California, USA.
For more information, please visit Hackaday.com.
Media Contact:
Katie Huber
Phone: 626.793.7732
Email: khuber@supplyframe.com
Source: Hackaday
Share:
---
Categories: Computer Engineering, Computer Hardware, High Technology
Tags: conference, engineering, hackaday, hardware, technology
---
Hackaday
61 South Fair Oaks Avenue (200)
Pasadena, CA 91105
United States