Computer, Meet Human. Human, Meet Computer.
The fourth round of The Hackaday Prize focuses on interfaces between humans and machines.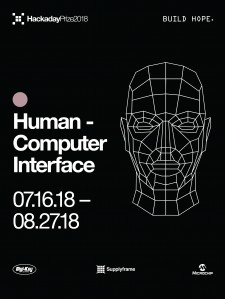 PASADENA, Calif., July 16, 2018 (Newswire.com) - Hackaday, the most popular website read by engineers, makers, and inventors that celebrates hardware hacks, launches the Human-Computer Interface Challenge of the 2018 Hackaday Prize engineering initiative. The 2018 Hackaday Prize is challenging engineers, makers, and designers to build hope by building something that matters.
Hackaday challenges participants to design and create an interface that can be used to bridge the gap between humans and computers to make it easier to connect and communicate. Interfaces built should make technology a more intuitive, fun, and natural activity. Builds in this round can be visual, auditory, haptic, or other types of interfaces. Entrants must present their interfaces in action, either controlling something or by transferring information. The fourth challenge round continues through August 27.
"Digi-Key has always been part of the innovation cycle for small and nimble engineering teams," said David Sandys, Director, Business Ecosystem Development at Digi-Key. "Today's global societal challenges are being brought to the forefront through activities like The Hackaday Prize. There simply is no other contest that comes close to providing the necessary footprint and platform to tackle these problems head-on and Digi-Key is proud to be a part of the identified solutions."
Participants can work alone or collaborate as a team. Participants and teams are allowed to enter more than one project to be considered for the Human-Computer Interface Challenge. Entrants are required to submit their interface idea, supporting images, documentation logs, and at least four build logs.
The other rounds of the 2018 Hackaday Prize are Open Hardware Design (March 12-April 23), Robotics Module (April 23-June 4), Power Harvesting (June 4-July 16), Human-Computer Interface (today-August 27), and the Musical Instrument Challenge (August 27-October 8).
Twenty projects from each challenge round will be selected as semi-finalists and awarded $1,000 per project. At the conclusion of the final challenge, the 100 semi-finalists will automatically advance to the Finals Round, where five top projects will be awarded prizes ranging from $5,000 to $50,000. The 2018 Hackaday Prize finalists will be announced at the Hackaday Superconference taking place November 2-4 in Pasadena, California. Throughout The Hackaday Prize initiative, over $200,000 will be awarded in prizes.
To learn more about The Hackaday Prize, visit hackaday.io/prize or follow contest news on Twitter at @hackaday or #HackadayPrize.
The 2018 Hackaday Prize is sponsored by Digi-Key, Supplyframe, and Microchip.
Media Contact:
Katie Huber
Phone: 626.793.7732
Email: khuber@supplyframe.com
The latest version of the press kit can be viewed at hackaday.io/prize/press.
Source: Hackaday
Share:
---
Categories: Computer Hardware, High Technology
Tags: Competition, Digi-Key, Hackaday, Hardware, Hardware Hacking, Human Computer Interface, Innovative Technology, Microchip, Technology, The Hackaday Prize
---
Hackaday
61 South Fair Oaks Avenue (200)
Pasadena, CA 91105
United States